Supporting parents in a time of crisis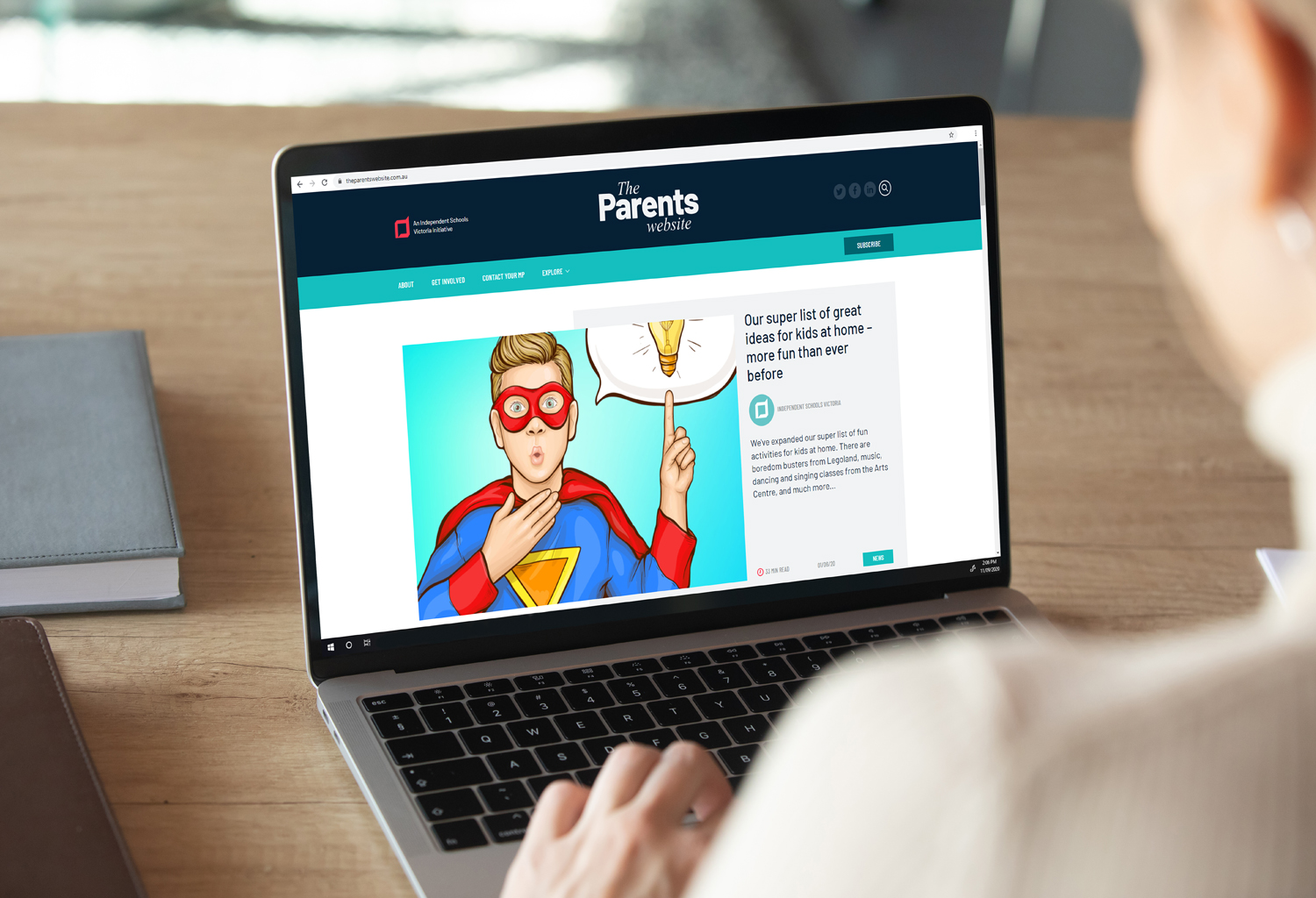 It seems the more difficult the days are, the more people turn to the Parents Website, writes ISV Chief Executive, Michelle Green.
Around about 21 March this year, there was a sudden jump in the number of people visiting, reading and sharing the content on the Parents Website operated by Independent Schools Victoria. This was early in the COVID-19 crisis, when terms like 'remote learning', 'social distancing' and the 'new normal' weren't, well, normal.
The spike in traffic came when we posted a video in which Victoria's Chief Health Officer, Professor Brett Sutton, explained what we could all do to help prevent the spread of the coronavirus. Since then we've had a 500 per cent increase in page views.
Numbers for the website – which provides news, information and resources for parents on raising, educating and entertaining children – are markers along the trying journey we have all been on this year. They mirror the dips and rises of the pandemic, easing off at the first hint that the worst of the crisis might be over, then surging as we're hit by another wave.
It seems that the more difficult the days are, the more people turn to the Parents Website. This is gratifying for us, confirming the value of our decision to create the site close to a decade ago. Back then we saw it as a community-building platform for parents with children at Independent schools.
An open platform for community engagement and collaboration
While it still serves that role, we re-launched it in 2016 with a broader focus, offering news and information about parenting, children and education to all parents, regardless of school sector. We saw it as an open platform for community engagement and collaboration.
We cast the net widely for useful, reputable and engaging content from a diverse range of reliable and expert sources, and we engaged Shane Green, a former education editor at The Age, to ensure it was professionally edited and presented.
Its reach grew steadily year-on-year since 2016 and the site was performing well as we entered 2020, when our focus was on the start of a new school year and the wellbeing and recovery of families affected by the summer bushfires.
Then COVID-19 barged into parents' lives. To meet fast-growing demand for information, we moved from updating the site once a week to continuous publishing, with weekly emails to subscribers (3,000 and growing). In May we concluded a long-planned redesign of the site, shifting to a new modern platform – a timely move, given the traffic it was now carrying.
The site now hosts more than 400 posts. Website data reveals what's on parents' minds and what they want to know. They want:
tips on how to support their children while they're learning from home
advice on helping their children maintain their physical and mental wellbeing while in isolation, and
practical resources for keeping their families engaged and entertained.
They want reassurance, advice they can trust and news they can use.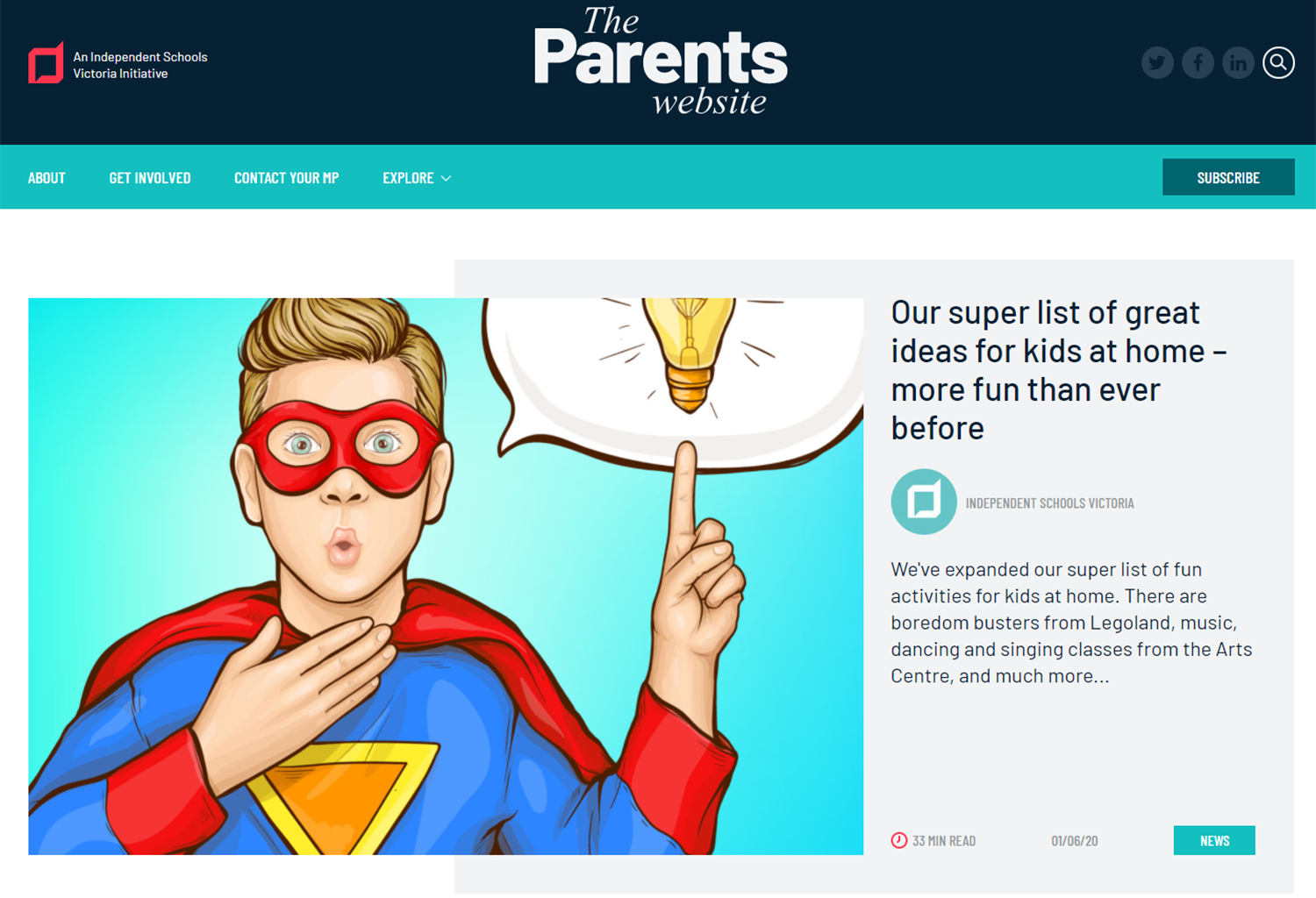 Site super list leads the way
The site's 'super list' of more than 250 fun and educational things to do from home – from building a loungeroom fort to visiting the online galleries and exhibitions of some of the world's greatest artistic and cultural sites – is the most popular feature.
A favourite regular columnist is adolescent psychologist Andrew Fuller. The Best of the Web feature draws on articles and information on parenting and education from around the world. ISV staff are regular contributors. Increasingly external writers, experts and academics who see it as a valuable platform are coming to us, offering articles, book excerpts and other contributions. Schools are increasingly sharing items of interest with their communities.
To meet the needs of parents we've also hosted online webinars featuring Andrew Fuller, educator and therapist Tim Klein, and family and parenting educator Justin Coulson. Each webinar was over-subscribed – a reflection of parents' hunger for credible and practical information and advice.
This interest confirms that parents are closely engaged with their children and their education and it vindicates our commitment to creating and sustaining a resource that supports them – not only in times of crisis, but when we enter the new normal.
Michelle Green is Chief Executive of Independent Schools Victoria.