Student art exhibitions forge new links in arts education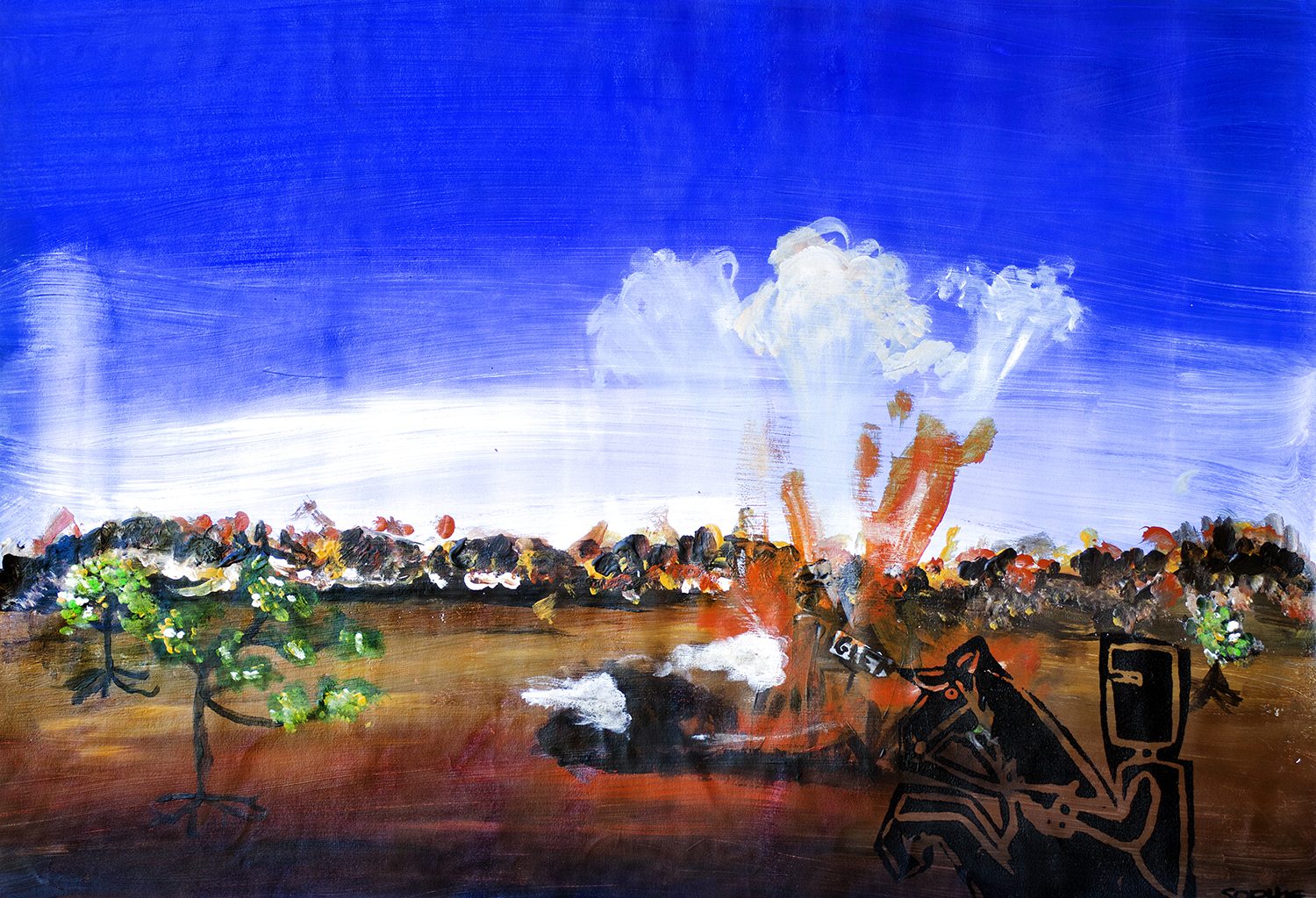 Student art exhibitions provide an open dialogue between artwork and audience. They also forge new and exciting links for learning about young people and their world, writes ISV Arts Learning Executive Anne Smith.
As learners, we began with the visual.
For those of us with the precious gift of sight, our early encounters were focussed on the shapes, colours and lines of our emerging world. Our early visual language grew quickly to embrace people, objects, places, events and, ultimately, link to the concepts that would foreground our formal education.
This primacy of the visual functioned effectively as a transactional language that always placed our interests as learners at the centre, while still enabling the construction of social connections. Anyone who has recently seen hand painted rainbows as a symbol of hope displayed in their neighbourhood can attest to the validity of this.
The engagement with the visual is a critical element in the scaffolding of infant brains and it is also central in giving meaning to our adult world. It is how people build and differentiate identity, it shapes our memories and imagination, and it is an intrinsic part of communication. It is this fundamental engagement that provides the arts with a direct line of transmission to and from our deepest thoughts and feelings, making art such a powerful tool for cognition and learning.
Art builds on the foundational elements of early visual experiences through the evolution of imagery, ideas, technical devices and manipulation of materials. The Victorian Curriculum describes the compelling nature of study in the visual arts for students. It says: 'The Arts present ideas that are dynamic and rich in tradition. Through engaging in the arts, students are entertained, challenged and provoked to respond to questions and assumptions about individual and community identity, taking into account different histories and cultures.'
It also identifies the dual strands for engagement with arts learning as making and responding. Through art making, students can learn about themselves and their world. It is through sharing these works in an art exhibition that they begin to teach others.
"However powerful each individual student creation might be, it is the art exhibition that becomes the nexus for engagement with an audience and makes the opportunity for learning and transformative thinking possible."
Open dialogues between artwork and audience
As learners, we are hard wired for image-based experiences that the visual arts provide.
Since its beginning, the student art exhibitions that ISV has facilitated for its Member Schools and wider education networks have celebrated the achievement of students and the highly valued connections being made. At the heart of our intentions, we sought to explore the opportunities for learning that these vibrant and innovative collections of art could bring. The exhibitions became platforms for open dialogue between artwork and audience to forge new and exciting links for learning about young people and their world.
The major impacts and benefits of our exhibitions program were captured in our research with Harvard University's Project Zero, Art Works at Work, which revealed that the art collection ' fostered discussion and socialization between colleagues' and 'stirred emotional responses, allowed for personal connection making, generally enhanced their work environment, fostered learning opportunities and promoted cognitive engagement'.
There are many processes involved in putting these exhibitions together but one of the most compelling for me will always be meeting teachers at our Member Schools to help select the student artworks. Over time, the excitement of this has never diminished, as each new year and group of students brings something unique and special to the collection. There are certainly recurrent themes and genres such as still life and portraits, and much exploration with common medias such as paint, collage and drawing materials. Yet wherever a viewer's attention might land in our now massive archive of works going back to 2005, they will never find duplication.
The artworks we select for exhibition represent a unique moment of development in the education of each of these young learners and being able to share the power of this cannot be overestimated.
The individual artworks will inform on the personal perspectives of the student artists but through further study with selected groups of artwork, we can reflect on a range of other influences, such as social contexts and curriculum priorities that may be in play at the time the work was created.
isArtworks and this year's Student Art Exhibition
This year, our annual student art exhibition represents a turning point in the arts learning conversations for Independent Schools Victoria and our wider education networks. The amazing artwork we have the privilege of displaying will for the first time be hosted in two locations.
Through our physical gallery space in Wharf Street at The Docklands, we look forward to welcoming all to enjoy the ambience of the environment while viewing the works in situ, with each work setting up a unique connection with those around it.
Our second online location will conquer time and space, providing a perfect complement to the physical gallery through a virtual interactive experience.
We're excited to announce the arrival of isArtworks, our online student art gallery.
isArtworks will display not only our current collection but will grow in time to become the archive for all past and future exhibitions. It will become a living history of our student art collections and the changing art education landscape.
Through our commitment to providing moments to reflect and inspire, we hope these exhibitions will provide empowerment and opportunities to learn. The dual modes for engagement now on offer will continue to gather the divergent, the unique and the unexpected visions of young people to reframe the present and create a shared meaning for the future.
Anne Smith is Arts Learning Executive at Independent Schools Victoria.